MesoGold® - Nanoparticle Colloidal Gold
MesoGold is a true colloidal gold mineral supplement and has the highest particle surface area for maximum effectiveness.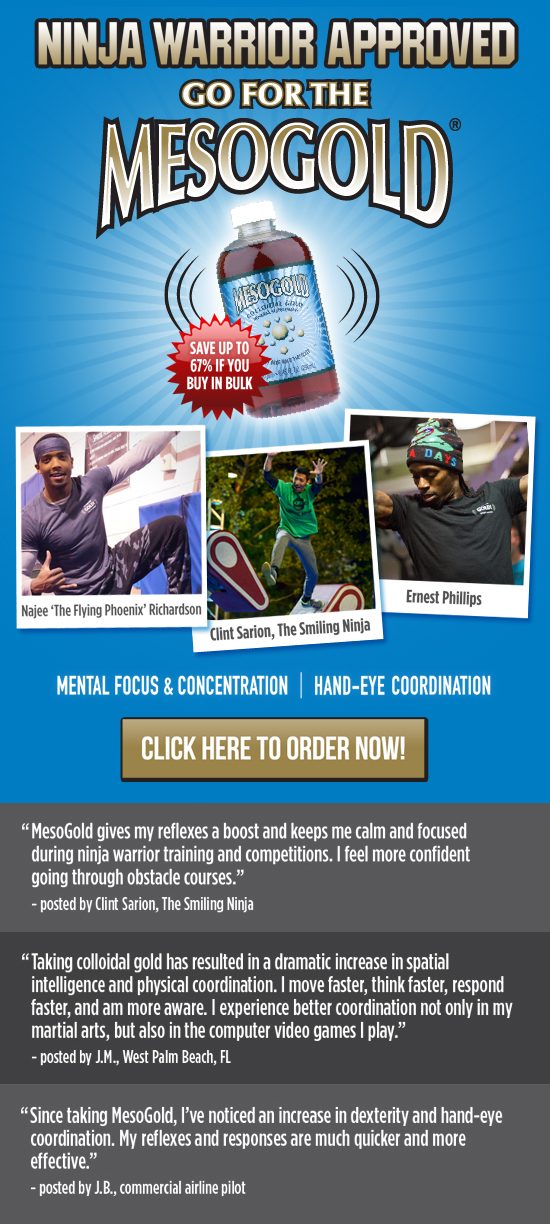 BUY IN BULK AND SAVE!
Gallon size jugs save 42% vs. the single bottle price.
5 Gallon size carboys save 67% vs. the single bottle price.
Using our secure server or by phone.
Money Back Guarantee
About MesoGold
MesoGold is 0.9999 pure gold in colloidal form.
Mesogold is an all natural mineral supplement manufactured by a proprietary process which starts with .9999 pure gold and produces very small gold particles which are just several times the diameter of the gold atoms themselves. These particles remain suspended in pure water. Our product is a true colloidal gold because the gold content is contained entirely in the particles. There are no gold ions in Mesogold.
High purity gold 0.9999. (Beyond 4 nines is meaningless)
Smallest gold nanoparticles whose diameter typically measure 3.2 nm
Made using the highest purity, sterile reagent grade deionized water.
Concentration: 20 ppm (minimum) of gold particles . Does not contain gold ions.
Highest particle surface area of any colloidal gold product available.
Safety and Storage
MesoGold is manufactured in an FDA registered facility, contains only pure water and pure gold nanometer sized particles and is non-toxic. See Material Safety Data Sheet (MSDS).
No adverse side effects have ever been reported.
Does not interact or interfere with any medications.
Infinite shelf life.
Does not require refrigeration after opening.
Do not use this product if you are allergic to gold
MesoGold Directions and Dosage
For maximum absorption, take MesoGold on an empty stomach (15+ minutes before eating). Once absorbed, MesoGold will peak in the body at about 1 hour but persist for 3-4 hours. Do not drink directly from the bottle, as this may contaminate the product.
Workouts:
Take 2 ounces (4 tablespoons) of MesoGold at least 30 minutes before working out. See dosage instructions below.
MesoGold can also be used for increased mental clarity, focus and memory. Decreases in joint pain are also sometimes noted.
Dosage:
Adults: Adjust the dosage from ½ ounce (1 tablespoon) to 4 ounces (8 tablespoons). We suggest starting by taking 2 ounces (4 tablespoons) and adjust the dosage up and down to find your individual optimum dosage.
Children: Start with a dosage of 1 teaspoon (5 mL) for each 70 pounds of body weight. Find the optimum dosage by increasing the dosage to 2 teaspoons (10 mL) or 3 teaspoons (15 mL which is 1 tablespoon).
A 500 mL bottle will provide:
a three month's supply when used at a dosage of one teaspoon per day.
a one month supply when used at a dosage of one tablespoon per day.
a two week supply when used at a dosage of two tablespoons per day.
Color
Mesogold is a clear ruby red colored liquid. There is no noticeable turbidity (cloudiness). The color appears to change somewhat from light ruby red to dark ruby red to purple with increasing concentration of the gold present. At 20 ppm, the gold concentration of Mesogold, the color is ruby red.