Dr. Fuhrmanís Gentle Care Formula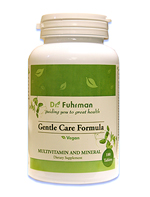 Dr. Fuhrmanís Gentle Care Formula Multivitamin and Mineral Supplement
Features & Benefits:
Made from the finest quality ingredients
100% vegan
Free of toxic ingredients that have the potential to cause harm
Contains chelated minerals that support maximum absorption
The safest multivitamin and mineral supplement made
Formula is continually updated according to current research
Contains phytochemical and carotenoid concentrates from green food extracts for added benefit
Manufacturing facility is GMP certified and FDA regulated
Safe and effective for all ages, as well as for women who are pregnant or nursing
Supplements a healthy diet
Is non-stimulating
Is gentle on the digestive tract
180 tablets - 90 day supply

Dr. Fuhrmanís Gentle Care Formula Multivitamin and Mineral Supplement was designed with an eye towards the most effective formula, as well as in keeping with superior safety and quality standards. It is the only supplement of its kind that incorporates the most up-to-date scientific findings and continually reconfirms its commitment to providing a safe and natural product as science continues to reveal positive and negative findings about supplemental vitamin and mineral products. The formulation of Gentle Care was created in precise balance - based on the evidence that most supplemental products are missing the mark by containing too much of some ingredients and too little of others. The Gentle Care Formula was created with safety in mind and meant to supplement and support a healthy diet.
Suggested Daily Use:
Two tablets taken daily; best with meals.
Supplement Facts
Serving Size: 2 Capsules
Servings Per Container: 90
Amount Per Serving
%DV

Vitamin C (as calcium ascorbate and from acerola fruit extract)

100mg
167%

Vitamin D (as ergocalciferol)

1000 IU
250%

Vitamin K2(as natural menaquinone-7 (MK-7))

30mcg
38%

Thiamin (as thiamin HCl USP)

2mg
133%

Riboflavin (as riboflavin USP)

2mg
118%

Niacin (as niacinamide USP)

10mg
50%

Vitamin B6 (as pyridoxine HCl USP and pyridoxal 5-phosphate)

1mg
50%

Vitamin B12 (as methylcobalamin)

30mcg
500%

Biotin (as biotin USP)

200mcg
67%

Pantothenic Acid (as D-calcium pantothenate USP)

5mg
50%

Calcium (as calcium citrate and calcium ascorbate)

100mg
10%

Iodine (from kelp)

150mcg
100%

Magnesium (as magnesium aspartate, and magnesium amino acid chelate)

100mg
25%

Zinc (as zinc amino acid chelate and zinc picolinate)

15mg
100%

Manganese (as manganese amino acid chelate)

2mg
100%

Chromium (as chromium amino acid chelate)

60mcg
50%

Molybdenum (as molybdenum amino acid chelate)

37.5mcg
50%

Vanadium (as vanadium amino acid chelote)

10mcg
**

Polygonum cuspidatum root extract (providing 25 mg resveratrol)

50mg
**
Whole Food Fruit, Veggie & Greens Blend:
Broccoli sprout extract, spirulina algae, acai fruit extract (Euterpe oleracea), lycium (goji) berry extract, citrus bioflavonoid complex (mixed citrus fruits), green cabbage floret concentrate, kale, watercress, Bilberry fruit extract (25% anthocyanosides), barley grass, wheat grass, grape powder & seed extract, wild blueberry extract, cranberry, raspberry powder and seed extract, prune, strawberry, tart cherry, and wild bilberry fruit extract
250 mg
**

** Daily Value (DV) not established.


Gentle Care is gluten free.
Contains corn or corn derivatives.
Keep out of reach of children.
Store at 15-30*C (59-86*F).
Protect from heat, light and moisture.
Supplements: Helpful or Harmful?
Most of us have gotten many mixed signals about the use of multivitamins and supplements; and there is existing confusion about whether or not such products are helpful or may actually cause harm. The fact is that most people can benefit from taking a multivitamin but it is important that the right multivitamin is chosen in order for it to be effective. The potential for harm when it comes to taking most multivitamin products is that it exposes the user to higher levels of nutrients than are needed. And while these nutrients are beneficial at the right dosage, they can have negative effects over the long term if taken at excessive quantities. Additionally, some types of multivitamins are more effective for our bodies than others. All of this information, along with health claims made by different products, and conflicting scientific research that seems to appear every day can make choosing a multivitamin confusing indeed. Dr. Fuhrmanís Gentle Care Formula Multivitamin and Mineral Supplement has been formulated based upon the most up-to-date scientific research; each and every ingredient thoroughly reviewed according to these standards. And when new research is made available, Gentle Care Formula is reformulated, if necessary, based upon the new information.
More Does Not Always Mean Better
We take multivitamins and supplements in order to enhance our diet and protect ourselves against vitamin and mineral deficiencies. But many people do not realize that there is also potential harm in ingesting vitamins and minerals at levels that are too high. Most commonly, consumers tend to consume levels of iron, B6, copper, selenium, and zinc that are too high and potentially harmful. Dr. Fuhrmanís Gentle Care Formula Multivitamin and Mineral Supplement is made with the optimum levels of vitamins and minerals so that users Ė when taking the supplement at the recommended dosage Ė are protected from exposure to excessive levels of ingredients that can ultimately be toxic.
Folic Acid & Tumors
Recent studies have shown a troubling connection between the taking of folic acid supplementation and cancer. Both folate and folic acid are included in the family of B vitamins. Folate is absorbed naturally through the consumption of fruits, vegetables, and grains, as well as other foods. Those getting their folate strictly through diet are not in danger of ingesting too much, as it is balanced naturally in food and the body is able to regulate its absorption.
Folic acid, however, is folate in synthetic form which is manually added to food products or contained as ingredients in vitamin supplements. In fact, some of our most commonly consumed foods contain folic acid Ė including bread, rice, pasta, and other refined grain products Ė which are supplemented with folic acid as a matter of course in the United States and Canada to replace nutrients that are lost during the processing of whole grain. So common are these foods in our standard diet that we are ingesting high levels of folic acid as a matter of course.
Because of our daily consumption of folic acid, the recent studies linking it to tumor growth warrants attention. It has been shown that the balance of folic acid intake is incredibly important. Appropriate amounts received through supplementation can actually help repair DNA errors and prevent the growth of tumors as well as provide early protection against cancer development. But excessive consumption can work in the opposite way by fostering the growth of tumors that have already started and promoting carcinogenesis. For those who have early stages of tumor growth and are unaware of it, the consumption of high levels of folic acid can have devastating effects.
Based on this research, folic acid was removed from Dr. Fuhrmanís Gentle Care Formula Multivitamin and Mineral Supplement until such time as there is more conclusive evidence. Rather, appropriate levels of folate can be derived from a diet rich in green vegetables.
Risk Connected to Beta-Carotene and Vitamin A Taken in Supplemental Form
Dr. Fuhrmanís Gentle Care Formula Multivitamin and Mineral Supplement does not contain vitamin A or beta-carotene because of studies that have shown risk in taking these nutrients in supplemental form over and above what we ingest through our diet. In fact, it has been shown that ingesting vitamin A or beta-carotene through supplements may interfere with the bodyís natural process of absorption; hindering the ability to absorb such important nutrients as lutein, lycopene, and carotenoids and subsequently exposing the body to increased risk of cancer.
Increased Cancer Risk Through the Taking of Isolated Beta-Carotene
Beta-carotene was introduced prior to vitamin A and was once considered a safe and effective antioxidant that was even suggested to be an ďanti-cancerĒ vitamin. New research, however, has shown that taking beta-carotene as an isolated supplement can actually increase the potential of certain cancers; this research reflects the current belief that when beta-carotene is ingested without other carotenoids - which would have naturally existed in foods that contain beta-carotene Ė the potential for harm exists. In fact, beta-carotene represents only one of 500 carotenoids; and carotenoid compounds found in plants is simply too complex to replicate in a supplement.
Beta-carotene was initially identified as having a powerful anti-cancer effect because research had shown that those with high levels of beta-carotene in their bloodstream also demonstrated low rates of cancer. However, what such research did not account for was the additional carotenoids and phytochemicals also present in the bloodstream Ė ingested along with beta-carotene in the regular consumption of fruits and vegetables.
It was later shown in trial research conducted in Finland that the taking of beta-carotene supplements did not prevent lung cancer and there was, in fact, an increase in cancer incidence among those who took such supplements. This study was actually brought to a premature close when participating researchers discovered that participants who were taking high levels of beta-carotene and vitamin A demonstrated a 28% higher death rate from lung cancer and a 17% higher death rate from heart disease. Recent studies have also shown an elevated occurrence of prostate cancer in those who take beta-carotene supplements.
Such studies conducted in the United States and Europe have sparked articles in the Journal of the National Cancer Institute, the New England Journal of Medicine, and the Lancet, advising against the taking of beta-carotene supplements.
Risks of Vitamin A
Studies have also shown that taking extra vitamin A (retinyl palmatate and retinyl acetate) can pose an even greater risk than taking beta-carotene through supplements. Our bodies convert beta-carotene into vitamin A and so those who eat reasonably healthy should not require any additional vitamin A. Modern research has connected the taking of supplemental vitamin A with liver toxicity, birth defects, and calcium loss in the urine which can contribute to osteoporosis. Animals that are exposed to toxic doses of vitamin A most frequently experience spontaneous fracture.
Fracture can also be an issue for humans that are exposed to higher than normal levels of vitamin A Ė even if such levels are not considered to be in the toxic range. It has been shown, in fact, that the rate of hip fracture increases by 68% with every 1 mg increase in the consumption of vitamin A.
Even with all of this information available, it remains nearly impossible to find a multivitamin on the market that does not contain beta-carotene and vitamin A. This is part of what inspired the creation of Dr. Fuhrmanís Gentle Care Formula Multivitamin and Mineral Supplement which contains only a wide variety of natural, plant derived carotenoids Ė not isolated beta-carotene or vitamin A.
The Latest on Iron and Copper
Dr. Fuhrmanís Gentle Care Formula Multivitamin and Mineral Supplement also does not contain iron or copper. Research has shown that taking iron supplements is not recommended unless specifically required due to an existing deficiency Ė something that is almost always related to a loss of blood. As an oxidant, iron can be a factor in infection and increased risk of heart attack.
Excessive levels of copper have been connected to a reduction in immune function and lowered antioxidants. Additionally, recent published findings have shown that high levels of copper ingestion combined with a diet that is high in saturated fats and trans fats can lead to a faster rate of mental decline in older adults. Subsequently, Dr. Fuhrmanís Gentle Care Formula Multivitamin and Mineral Supplement does not include copper. Further, Purest Colloids feels that all levels of copper received in recommended amounts of Purest Colloidís MesoCopper is not considered excessive.
Are Multivitamins Neccessary for Those Who Eat a Healthy Diet?
Even with a healthy diet we can still remain deficient in certain nutrients as each of our bodies is different in our rate of absorption and effective utilization of nutrients we do absorb. In short Ė no matter what the nutrient - some people may require more than others for it to deliver its maximum benefit. Taking Dr. Fuhrmanís Gentle Care Formula Multivitamin and Mineral Supplement in combination with eating a good diet can promote longevity and good health. Studies have shown, in fact, that a nutrient rich diet can reduce the risk of illness and disease. But even in the face of such information most of us continue to eat a diet that nutritionally is deficient. Eighty percent of Americans do not come close to consuming the recommended five daily servings of fruits and vegetables which, in turn, results in significant nutrient deficiencies including deficiencies in the B family of vitamins, vitamins E and C, magnesium, carotenoids, and zinc.
Nothing substitutes for eating a diet rich in vitamins and minerals. Even Dr. Fuhrmanís Gentle Care Formula Multivitamin and Mineral Supplement Ė while thoughtfully designed Ė is not a substitute for eating a healthy diet and cannot supply the most optimum levels of micronutrients or counteract the potentially harmful ingredients found in processed foods. Dr. Fuhrmanís Gentle Care Formula Multivitamin and Mineral Supplement is designed to supplement healthy diets and is meant for those who are committed to healthy eating. While we cannot always be sure that we are eating the proper balance of nutrients even with consistent effort we can give ourselves the best chances of success by taking the highest quality multivitamin and mineral supplement. Dr. Fuhrman recognizes that excessive quantities of nutrients can be just as harmful as nutrient deficiencies and so Dr. Fuhrmanís Gentle Care Formula Multivitamin and Mineral Supplement is formulated to provide a balanced, optimized level of nutrients. It does not contain those nutrients that have demonstrated harm when taken in supplement form rather than just derived through diet.
What about Vegetarians?
Dr. Fuhrmanís Gentle Care Formula Multivitamin and Mineral Supplement is perfect for vegetarians. A diet that is considered vegan Ė completely vegetarian Ė can result in deficiencies in vitamin B12. The Gentle Care Formula contains 500% of the RDI for B12. Dr. Fuhrmanís Gentle Care Formula Multivitamin and Mineral Supplement includes more than the RDI of B12 because so many people require more Ė vegans and the elderly especially; and extra B12 is non-toxic. The taking of supplemental B12 is crucial for those who eat a vegan diet. Dr. Fuhrmanís Gentle Care Formula Multivitamin and Mineral Supplement provides the B12 and vitamin D that is almost always needed by vegans and the product is in keeping with a vegan diet. Zinc, while almost always a supplement that is needed by vegans is not Ėin the majority of cases Ė vegan in nature within the supplements in which it is provided. Additionally, the vitamin D that is included in supplements that claim to be vegan are made from sheepís wool fat. And some ingredients in ďveganĒ supplements utilize fish emulsion as a stabilizer. Dr. Fuhrmanís Gentle Care Formula Multivitamin and Mineral Supplement is a completely vegan product; each ingredient is carefully researched to ensure its vegan purity and even manufacturing methods are carefully scrutinized to ensure that the product is suitable for vegan customers.
Dr. Fuhrmanís Gentle Care Formula Multivitamin and Mineral Supplement
Dr. Fuhrman utilizes the most up to date nutritional research to make a determination as to what Dr. Fuhrmanís Gentle Care Formula Multivitamin and Mineral Supplement will or will not contain. Dr. Fuhrman uses only the highest quality, most absorbable forms of each nutrient and each and every ingredient is carefully reviewed before being included in the formula at its most optimum level.
Dr. Fuhrmanís Gentle Care Formula Multivitamin and Mineral Supplement:




100% Vegan

Free of Toxic Ingredients

Supplements a Healthy Diet

Only $47.99 for a 90 Day Supply!